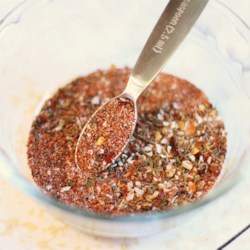 "This is a mildly hot Cajun spice mix you make yourself with common spices from your pantry. For those who like it hotter, add the optional crushed red pepper. This makes a great oven Cajun hashbrowns!"
Ingredients
2 teaspoons salt
2 teaspoons garlic powder
2 1/2 teaspoons paprika
1 teaspoon ground black pepper
1 teaspoon onion powder
1 teaspoon cayenne pepper
1 1/4 teaspoons dried oregano
1 1/4 teaspoons dried thyme
1/2 teaspoon red pepper flakes (optional)
Directions
Stir together salt, garlic powder, paprika, black pepper, onion powder, cayenne pepper, oregano, thyme, and red pepper flakes until evenly blended. Store in an airtight container.
ALL RIGHTS RESERVED © 2021 Allrecipes.com
Printed From Allrecipes.com 6/19/2021