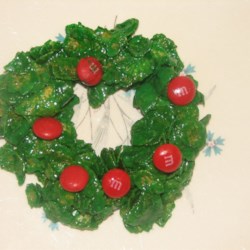 "We've been making these cookies for years. They are colorful, festive, and delicious."
Ingredients
1 (16 ounce) package large marshmallows
1/2 cup butter, softened
1 1/2 teaspoons vanilla extract
1 1/2 teaspoons green food coloring
4 1/2 cups cornflakes cereal
1 (2.25 ounce) package cinnamon red hot candies
Directions
In a saucepan over low heat, melt together the marshmallows, butter, vanilla, and food coloring. Mix in the cornflakes cereal.
Drop by spoonfuls on wax paper, and decorate with red hots. Set aside, and allow to cool.
ALL RIGHTS RESERVED © 2021 Allrecipes.com
Printed From Allrecipes.com 9/19/2021