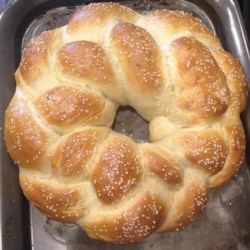 "This makes a very large and impressive loaf. I have used it for large parties."
Ingredients
2 (.25 ounce) packages active dry yeast
1/2 cup warm water (110 degrees F/45 degrees C)
2 cups hot milk
1/2 cup white sugar
1/2 cup butter
2 teaspoons salt
1/2 cup water
5 eggs
11 cups all-purpose flour
1 egg
2 tablespoons sesame seeds
Directions
Proof yeast and 1/2 cup warm water in a large mixing bowl.
Combine hot milk, sugar, butter, salt, and 1/2 cup water in a medium bowl. Cool to 110 degrees.
In small bowl, slightly beat 5 eggs, then add to cooled milk mixture. Add milk mixture to yeast mixture. Add 2 cups flour and beat until smooth. Slowly add remaining flour until it forms a stiff dough. Knead on a floured board for 10 minutes (5 minutes with a bread hook). Place in a large glass or plastic bowl lightly greased. Turn dough over to grease both sides. Cover and let rise in a warm, dark place until doubled in volume, approximately 60 minutes.
Punch down, cover, and let rise again until double, approximately 30 minutes.
Punch again, and form into three parts. Form each part into a 20-inch roll. Braid rolls on a large, greased cookie sheet. Cover and let rise until doubled.
Lightly beat remaining egg and brush loaf. Sprinkle with sesame seeds. Bake in preheated 350 degree F (175 degrees C) oven for about 55 minutes until nicely browned. May be made into two regular sized loaves. Reduce baking time slightly.
ALL RIGHTS RESERVED © 2021 Allrecipes.com
Printed From Allrecipes.com 12/2/2021