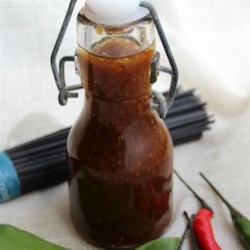 Japanese Miso and Sesame Sauce
"A sort of salty topping for your standard rice bowl using primarily Japanese ingredients. Also vegan-friendly!"
Ingredients
2 tablespoons mirin (Japanese sweet rice wine)
1 tablespoon miso paste
1 tablespoon ground dried wakame (seaweed)
1 1/2 teaspoons minced fresh ginger
1 teaspoon soy sauce
1 teaspoon sesame oil
Directions
Mix mirin, miso paste, dried wakame, ginger, soy sauce, and sesame oil together in a bowl until combined.
ALL RIGHTS RESERVED © 2021 Allrecipes.com
Printed From Allrecipes.com 11/27/2021