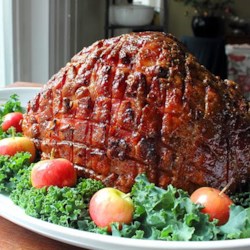 Chef John's Honey-Glazed Ham
"A great holiday ham glaze needs to have three things: wonderful flavor, gorgeous, shiny appearance, and a crispy, crackling crust you can hear across the room. I'm happy to report this easy-to-make glaze has all those things in abundance."
Ingredients
3/4 cup water, or as needed
2 whole star anise
12 whole cloves, or more to taste
1 (7 pound) country-style ham
1 cup firmly packed light brown sugar
1/4 cup honey
2 tablespoons Dijon mustard
2 tablespoons rice vinegar
1 1/2 teaspoons freshly ground black pepper
1/2 teaspoon Worcestershire sauce
1 pinch cayenne pepper
Directions
Preheat oven to 325 degrees F (165 degrees C).
Pour water, star anise, and cloves into the bottom of a roasting pan. Place a roasting rack into the pan over the water, anise, and cloves; place ham on rack. Cut 1/4-inch deep slashes 1/2-inch apart lengthwise and crosswise across the top of the entire ham.
Bake ham in the preheated oven for 20 minutes. Whisk brown sugar, honey, mustard, vinegar, black pepper, Worcestershire sauce, and cayenne pepper together in a bowl until glaze has a thick, smooth consistency.
Brush glaze all over ham. Continue baking ham, brushing glaze on every 20 minutes, until glaze is deep golden and ham is heated through, about 2 hours 10 minutes. An instant-read thermometer inserted into the center should read 130 degrees F (54 degrees C).
Use a kitchen torch to heat the glaze on the ham until it is crispy and caramelized, 2 to 5 minutes.
ALL RIGHTS RESERVED © 2021 Allrecipes.com
Printed From Allrecipes.com 11/30/2021