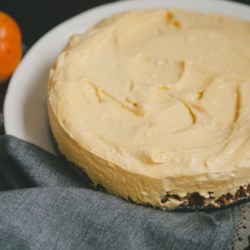 "This is a wonderful light whipped pumpkin pie. My husband doesn't like traditional pumpkin pie but loves this recipe I came up with. The cream cheese adds a wonderful flavor with a traditional pie taste but light/whipped. It is made with a homemade graham cracker crust."
Ingredients
Crust:
3 cups graham cracker crumbs
2/3 cup white sugar
3/4 cup butter, melted
Filling:
1 (8 ounce) package cream cheese, at room temperature
1/2 cup white sugar
1 (15 ounce) can pumpkin puree
1 (8 ounce) container frozen whipped topping, thawed
1/2 teaspoon ground nutmeg
1/2 teaspoon pumpkin pie spice
Directions
Preheat oven to 350 degrees F (175 degrees C).
Combine graham cracker crumbs, 2/3 cup sugar, and melted butter in a mixing bowl. Mix until evenly moistened, then press into the bottom and halfway up the sides of a 9-inch springform pan. Place pan on a baking sheet.
Bake the crust in the preheated oven until lightly browned and toasted, about 10 minutes. Remove from the oven and allow crust to cool.
Beat cream cheese and 1/2 cup sugar together in a large bowl with an electric mixture until light and fluffy, 2 to 3 minutes. Beat in pumpkin puree until completely incorporated.
Fold whipped topping into pumpkin mixture; stir in nutmeg and pumpkin pie spice. Pour pumpkin mixture into graham cracker crust. Cover pie with plastic wrap and refrigerate overnight. Gently remove pie from springform pan.
ALL RIGHTS RESERVED © 2021 Allrecipes.com
Printed From Allrecipes.com 12/8/2021