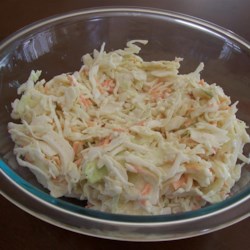 Traditional Creamy Coleslaw
"A traditional creamy coleslaw."
Ingredients
1 cup mayonnaise
1/4 cup white sugar
2 tablespoons seasoned rice wine vinegar
1 1/2 tablespoons lemon juice
1 tablespoon prepared horseradish
1/2 teaspoon onion powder
1/2 teaspoon dry mustard
1/2 teaspoon celery salt
1/2 teaspoon salt
1/2 teaspoon ground black pepper
1 (28 ounce) package coleslaw mix
Directions
Whisk mayonnaise, sugar, rice wine vinegar, lemon juice, horseradish, onion powder, dry mustard, celery salt, salt, and black pepper in a large mixing bowl, stirring to dissolve sugar. Fold coleslaw mix into dressing. Cover bowl and refrigerate 1 hour before serving.
ALL RIGHTS RESERVED © 2021 Allrecipes.com
Printed From Allrecipes.com 5/17/2021