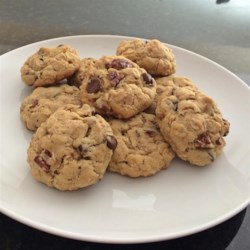 "These cookies are great for breastfeeding mothers! They are moist and super yummy and they help boost and/or maintain milk supply. And yes, husbands can eat them too! I have to hide these from my hubby when I make them! The brewers' yeast, wheat germ, flax seed, and whole oats are why these cookies help with milk supply for lactating mothers. Don't skip those ingredients!"
Ingredients
2 tablespoons flax seed meal
1/4 cup water
1 cup butter, softened
1 cup white sugar
1/2 cup brown sugar
3 egg yolks
1 1/2 teaspoons pure vanilla extract
2 cups all-purpose flour
1/4 cup brewers' yeast
1 tablespoon wheat germ
1 teaspoon baking soda
1/2 teaspoon salt
1/2 teaspoon cream of tartar
2 1/2 cups old-fashioned oats
1 cup chocolate chips
Directions
Preheat oven to 350 degrees F (175 degrees C).
Mix flaxseed with water in small bowl and let soak for 5 minutes.
Beat butter, white sugar, and brown sugar together in a large mixing bowl until creamy. Add egg yolks and vanilla extract; beat to incorporate. Stir flax seed mixture into the butter mixture.
Mix flour, brewer's yeast, wheat germ, baking soda, salt, and cream of tartar in a separate bowl; add to butter mixture and stir until just combined. Fold oats and chocolate chips into the dough.
Roll dough into walnut-sized balls and place 2 inches apart onto a baking sheet.
Bake in the preheated oven until the edges are golden, 10 to 12 minutes. Allow the cookies to cool on the baking sheet for 1 minute before removing to a wire rack to cool completely.
ALL RIGHTS RESERVED © 2021 Allrecipes.com
Printed From Allrecipes.com 10/24/2021