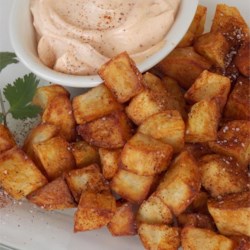 Chef John's Patatas Bravas
"These fried potatoes are fiercely textured, fiercely flavored, fiercely presented, and fiercely enjoyed. How fierce is really up to you and your inner Spaniard. There are as many patatas bravas recipes as homes in Spain, and this is nothing more than my latest rendition."
Ingredients
Dipping Sauce:
1 clove garlic, minced, or more to taste
1/2 teaspoon smoked paprika
1 pinch salt
1 cup mayonnaise
1 tablespoon sherry vinegar, or more to taste
1 teaspoon tomato paste
1/4 teaspoon ground chipotle peppers
1 pinch cayenne pepper, or more to taste
Spice Blend:
1 tablespoon salt
1/2 teaspoon ground black pepper
1/2 teaspoon paprika
1/2 teaspoon ground chipotle peppers
2 quarts cold water
1 tablespoon salt
1 teaspoon smoked paprika
1 teaspoon ground cumin
2 bay leaves
2 pounds russet potatoes, peeled and cut into 1-inch cubes
2 cups vegetable oil for frying
Directions
Combine garlic, 1/2 teaspoon smoked paprika, and a pinch of salt in a mortar and pestle or food processor; process until smooth. Mix in mayonnaise, sherry vinegar, tomato paste, 1/4 teaspoon chipotle chile powder, and cayenne pepper until combined. Cover and refrigerate dipping sauce.
Mix 1 tablespoon salt, black pepper, 1/2 teaspoon smoked paprika, and 1/2 teaspoon chipotle chile powder together in a small bowl. Set spice blend aside.
Pour water into a large saucepan and stir 1 tablespoon salt, 1 teaspoon smoked paprika, cumin, and bay leaves into water. Bring to a boil, reduce heat to low, and cover; simmer for 10 minutes.
Stir potatoes into water-paprika mixture, bring to a boil, and simmer until potatoes are tender but not fully cooked, 4 to 5 minutes. The tip of a paring knife should easily insert into the center of a potato cube. Drain potatoes and transfer to a wire rack to cool completely, about 45 minutes.
Heat vegetable oil in a large cast iron skillet or Dutch oven to 350 degrees F (175 degrees C). Add cooled potato cubes and cook, stirring frequently, until golden brown, 5 to 6 minutes. Transfer potatoes to a baking sheet lined with paper towels to cool slightly. Toss in a bowl with spice blend and serve with dipping sauce.
ALL RIGHTS RESERVED © 2021 Allrecipes.com
Printed From Allrecipes.com 12/2/2021