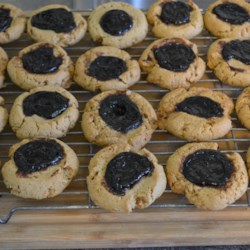 Peanut Butter and Jelly Thumbprint Cookies
Recipe By:
Grace Gutberlet
"These cookies are great for kids of all ages. I usually double the recipe when I make them. Using a cookie scoop and soda bottle cap to make the indentations results in uniform cookies, which makes a nice presentation. But you can improvise with other lids; just aim for something about the size of a quarter. Use any variety of jelly, but I do not recommend jelly with chunks of fruit, like strawberry. Attempting to move the cookies prior to cooling completely will cause them to break."
Ingredients
1 2/3 cups all-purpose flour
1/2 teaspoon baking soda
1/4 teaspoon salt
1/2 cup unsalted butter
2/3 cup creamy peanut butter
1/2 cup white sugar
1/2 cup brown sugar
1/2 teaspoon vanilla extract
1 egg
3/4 cup seedless raspberry jam
Directions
Sift flour, baking soda, and salt together in a bowl.
Beat butter, peanut butter, white sugar, brown sugar, and vanilla together in a separate bowl with an electric mixer until light and fluffy, 1 to 2 minutes. Scrape sides of bowl with a rubber spatula. Add egg to butter mixture and beat on medium speed until blended. Scrape side of bowl down again.
Beat flour mixture into butter mixture on low speed until just blended. Scrape bowl and mix a few more seconds.
Scoop dough into 2 tablespoon-sized balls and arrange on a baking sheet. Cover baking sheet and refrigerate at least 4 hours (overnight is ideal).
Preheat oven to 350 degrees F (175 degrees C). Line baking sheets with parchment paper and arrange cookie balls atop paper.
Bake cookies in the preheated oven until partially cooked, 11 minutes.
Place raspberry jam in a bowl and stir until syrup consistency.
Press a soda bottle cap into the center of each cookie until edges of cookies bulge and begin to crack, making an indentation. Fill each indentation with about 1 teaspoon jam.
Bake cookies until edges are lightly browned, 7 minutes longer. Cool cookies completely on the baking sheet before transferring to a wire rack.
ALL RIGHTS RESERVED © 2021 Allrecipes.com
Printed From Allrecipes.com 10/28/2021