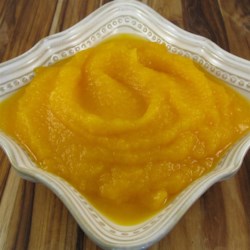 "This is a simple method for preparing pureed pumpkin. The pumpkin may be stored in the freezer for later usage in pies, muffins, etc."
Ingredients
Directions
Preheat oven to 325 degrees F (165 degrees C).
Cut the pumpkin in half, stem to base. Remove seeds and pulp. Cover each half with foil.
Bake in the preheated oven, foil side up, 1 hour, or until tender.
Scrape pumpkin meat from shell halves and puree in a blender. Strain to remove any remaining stringy pieces. Store in the freezer in freezer safe bags.
ALL RIGHTS RESERVED © 2021 Allrecipes.com
Printed From Allrecipes.com 5/16/2021