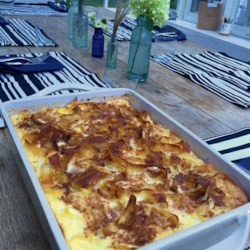 "I try and find any excuse to make this recipe, as it is one of my favorites. With the perfect combination of crunchy and sweet, you will never want to use another kugel recipe again."
Ingredients
1 (12 ounce) package wide egg noodles
6 eggs, beaten
1 (16 ounce) package small curd cottage cheese
2 cups whole milk
1 cup sour cream
1 cup white sugar
6 tablespoons butter, melted
1 (4 ounce) package cream cheese, softened
1 tablespoon vanilla extract
1 teaspoon salt
1/3 cup white sugar
1/4 cup brown sugar
1 teaspoon ground cinnamon
Directions
Preheat oven to 350 degrees F (175 degrees C).
Grease a 9x13-inch baking dish.
Bring a large pot of lightly salted water to a boil. Cook egg noodles in the boiling water, stirring occasionally until cooked through but firm to the bite, about 5 minutes. Drain.
Beat eggs, cottage cheese, milk, sour cream, 1 cup white sugar, butter, cream cheese, vanilla extract, and salt in a large bowl.
Stir egg noodles into cottage cheese mixture, then pour into prepared baking dish.
Combine 1/3 cup white sugar, brown sugar, and cinnamon in a small bowl; sprinkle mixture atop noodle kugel.
Bake in the preheated oven until sauce is bubbly and noodles are golden, about 1 hour. Allow pan of kugel to cool on a wire rack for 10 minutes before serving.
ALL RIGHTS RESERVED © 2022 Allrecipes.com
Printed From Allrecipes.com 1/23/2022