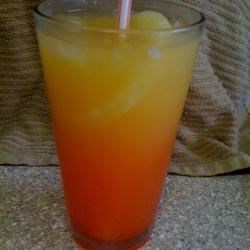 "A delicious tropical adult drink!"
Ingredients
1/2 fluid ounce rum
1/2 fluid ounce coconut-flavored rum
1/2 fluid ounce grenadine syrup
1 fluid ounce orange juice
1 fluid ounce pineapple juice
1 cup crushed ice
Directions
Combine regular rum, rum with coconut flavoring, grenadine, orange juice, pineapple juice and crushed ice in an electric blender. Blend until the drink's consistency is slushy.
ALL RIGHTS RESERVED © 2021 Allrecipes.com
Printed From Allrecipes.com 10/16/2021