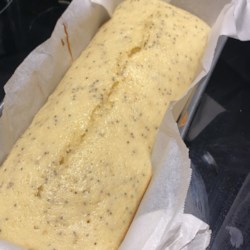 "A delicious and easy poppy seed bread made from scratch."
Ingredients
3 cups all-purpose flour
1 1/2 teaspoons salt
1 1/2 teaspoons baking powder
1 1/2 tablespoons poppy seeds
2 1/2 cups white sugar
1 1/8 cups vegetable oil
3 eggs
1 1/2 cups milk
1 1/2 teaspoons vanilla extract
1 1/2 teaspoons lemon extract
1/4 cup orange juice
3/4 cup white sugar
1/2 teaspoon lemon extract
Directions
Preheat oven to 350 degrees F (175 degrees C). Grease three 8x4 inch bread pans.
In a large mixing bowl, stir together the flour, salt, baking powder, poppy seeds and 2 1/2 cups white sugar. Add the eggs, milk, oil, vanilla and lemon extract; mix until smooth, about 1 minute. Pour batter evenly into the prepared pans.
Bake at 350 degrees F (175 degrees C) for 50 to 55 minutes, or until a toothpick inserted into the center of the loaves comes out clean. Cool loaves in the pans for 10 minutes before removing to a wire rack.
Combine orange juice with remaining 3/4 cup sugar and desired flavor of extract; stir well. Pour this mixture over the loaf while it is still hot. Allow loaf to cool completely before serving.
ALL RIGHTS RESERVED © 2022 Allrecipes.com
Printed From Allrecipes.com 1/25/2022