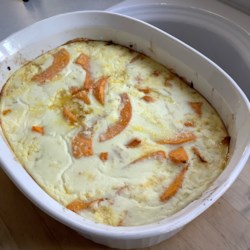 "This pumpkin casserole isn't sweet--perfect with roast pork."
Ingredients
1 (2 pound) pumpkin
1 large onion, finely chopped
2 tablespoons unsalted butter, melted
1/2 teaspoon salt
1/4 teaspoon ground white pepper
2 eggs
3/4 cup milk
3/4 cup farmer's cheese or ricotta cheese
Directions
Preheat the oven to 375 degrees F (190 degrees C). Coat a large baking dish with oil or cooking spray.
Cut pumpkin in half, and remove seeds; cut into 1/4 inch thick slices. Peel slices, and place pumpkin slices into a large bowl. Toss with onion and melted butter, and season with salt and white pepper. Arrange in prepared baking dish.
Bake pumpkin in preheated oven for 30 minutes. In a mixing bowl, beat eggs with milk and cheese; pour mixture over pumpkin in baking dish. Continue baking for 20 minutes, or until golden brown.
ALL RIGHTS RESERVED © 2021 Allrecipes.com
Printed From Allrecipes.com 5/16/2021