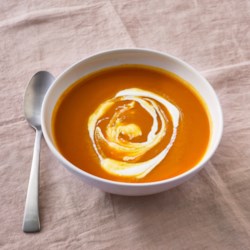 "This is a very tasty soup that keeps up to 3 days in the fridge, and freezes well. When you ladle this soup into individual bowls, swirl a dollop of sour cream or yogurt into the soup."
Ingredients
4 Macintosh apples - peeled, cored and chopped
1 tablespoon butter
1 onion, finely chopped
2 cloves garlic, crushed
1 tablespoon curry powder
1 teaspoon ground cumin
1 (15 ounce) can pumpkin puree
4 cups chicken broth
1 cup water
1 teaspoon white sugar
Directions
Melt butter in a large saucepan over medium heat. Add onion, garlic, curry, and cumin; saute, stirring often, until onion is soft and fragrant.
Stir in apples, pumpkin, broth, water, and sugar. Bring to a boil, stirring often. Cover, and reduce heat to low. Simmer for 25 minutes, stirring occasionally.
Puree soup in a food processor or a blender.
Return soup to saucepan; reheat, covered, over low heat.
ALL RIGHTS RESERVED © 2021 Allrecipes.com
Printed From Allrecipes.com 10/25/2021