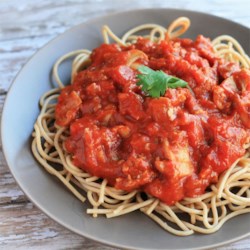 Easy Spaghetti with Tomato Sauce
"This is an easy and delicious recipe for a meaty spaghetti sauce with a homemade taste."
Ingredients
12 ounces spaghetti
1 pound lean ground beef
1 teaspoon salt
3/4 teaspoon white sugar
1 teaspoon dried oregano
1/4 teaspoon ground black pepper
1/8 teaspoon garlic powder
2 tablespoons dried minced onion
2 1/2 cups chopped tomatoes
1 1/3 (6 ounce) cans tomato paste
1 (4.5 ounce) can sliced mushrooms
Directions
Brown beef over medium heat. Drain off fat.
In a large pot, combine beef, salt, sugar, oregano, pepper, garlic powder, onion flakes, diced tomatoes, tomato paste, and mushrooms. Simmer at a low heat setting for 2 hours, stirring occasionally.
Cook pasta according to package directions. Drain. Serve sauce over spaghetti.
ALL RIGHTS RESERVED © 2022 Allrecipes.com
Printed From Allrecipes.com 1/25/2022